It's YOUR Day, It Should Be Spent YOUR way!
As a professional photographer I have had the privilege of gazing through the lens at the magic of wedding days on so many occasions. The thing that always gives me chills is when I get to witness how two individuals create a day totally unique to them. Also, their love is celebrated in the way only they know how. It's what makes a celebration of love so special and beautiful to watch. The couple is letting me grab a little sneak peak of how their love blossoms, how it keeps going, and why it's so special to each of them. So I'm here to help all those looking for the answer to how to best plan your wonderful wedding your way. In September, I shot the perfect wedding to help show what I mean.
Sara + James, The Pizza King and Queen
So Sara and James said to me they wanted their first look to be somewhere very, very special to them. I thought "where is this going to lead us to?" with excitement. Low and behold, we ended up at their favourite pizzeria, and I was blown away by how much this brought out their natural pizza loving smiles. It was also so wonderful to watch them sit and enjoy a slice at Bitondo's Pizzeria in Toronto, because it's not some cold sterile environment where they have to pose for the camera. Instead, they just sat back, enjoyed their favourite meal, and almost forgot they were being photographed all together. Therefore, I highly recommend this kind of first look to any couples about to get married. It will be so fun in the years to come to look back and reminisce with pictures from your old stomping grounds.





The Love That Walks Beside Us Everyday
Sara and James decided to forgo the big, traditional, inside ceremony. Instead, they led us to a beautiful and intimate ceremony in the heart of Trinity Bellwoods Park. Also, this park has one of the best views in all of Toronto. The joy on their faces showed us all how special this place was for them. Now every time they go for a stroll through Trinity Bellwoods Park they will get to stroll down memory lane. Their beautiful day will always be close to their hearts.
Two Bottles Of Beer On The Altar
Who says you can't make a pitstop for a pint or two or your wedding day? If you truly love something as a couple don't be afraid to try and incorporate it into your special day. Sara and James didn't miss a beat in this regard. They planned a perfect little cocktail hour at Henderson's Brewing. Boards games, delicious craft beer, and big smiles followed suit. This was, through and through, a day to celebrate Sara and James in what makes them, them. Pizza, beer, games, and a small intimate wedding made it clear that these two value good old casual fun. You could sense that this casual atmosphere made their day wonderful for them and their guests. Everyone had a blast, and the fun didn't stop there. This train just kept rolling onto the next fun station. And as their photographer, I couldn't wait to hop aboard!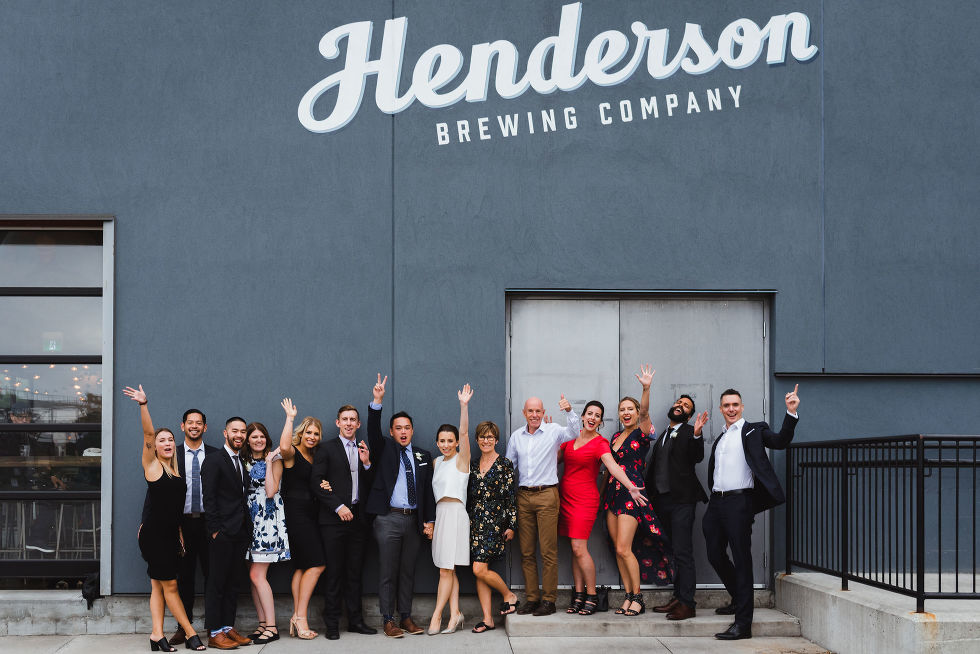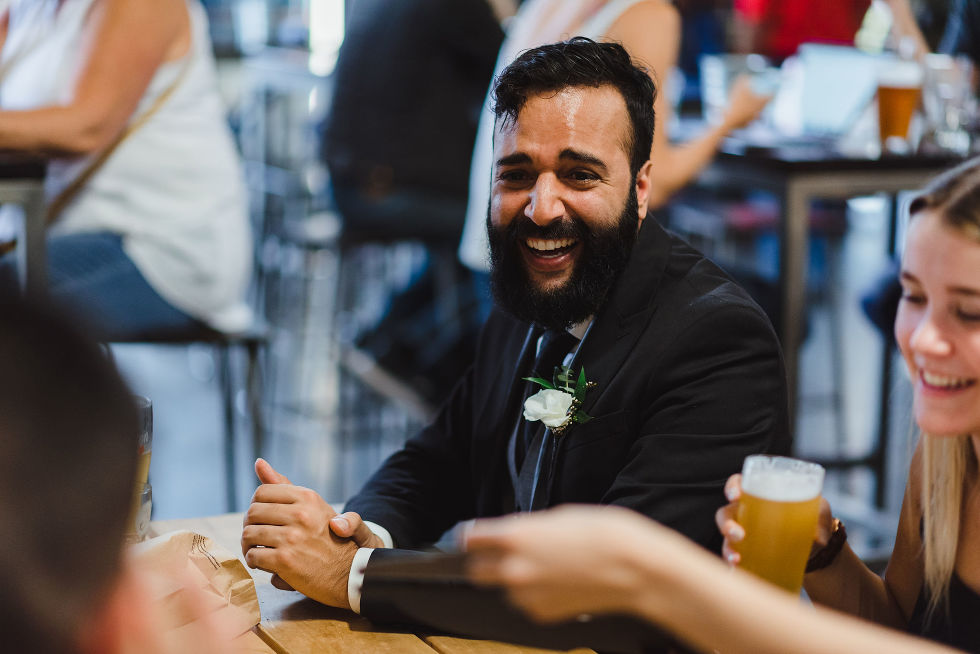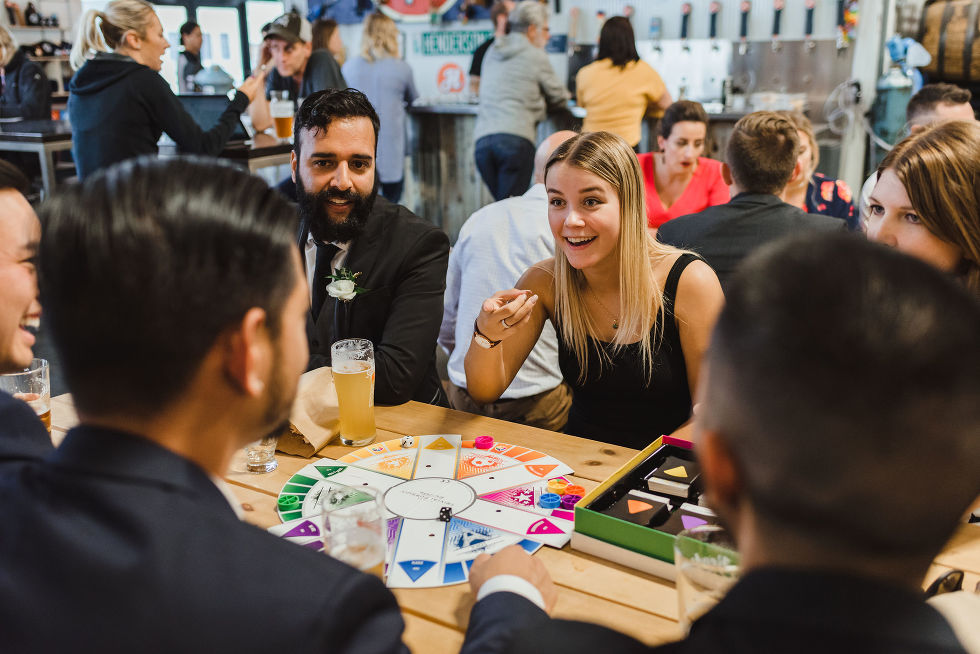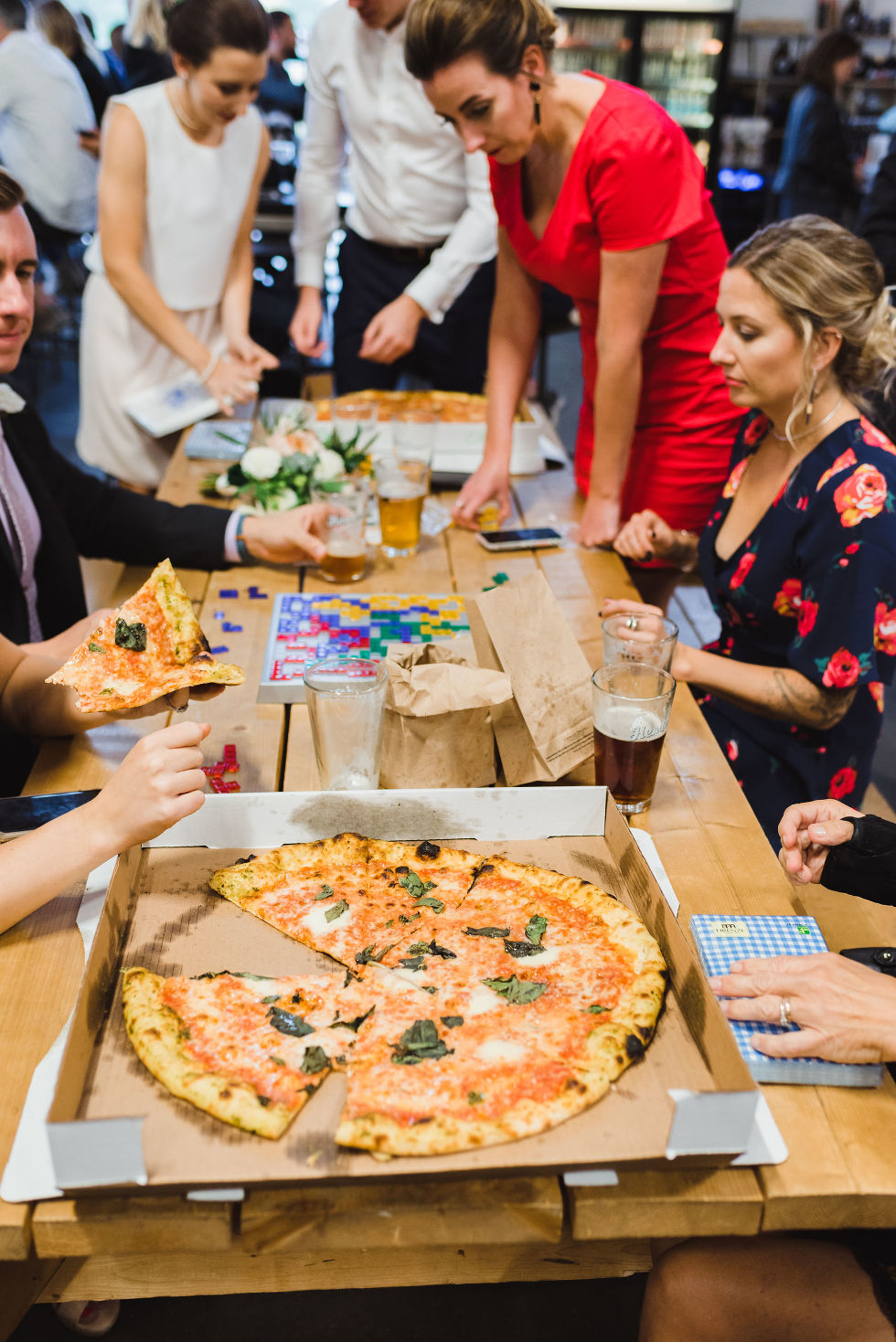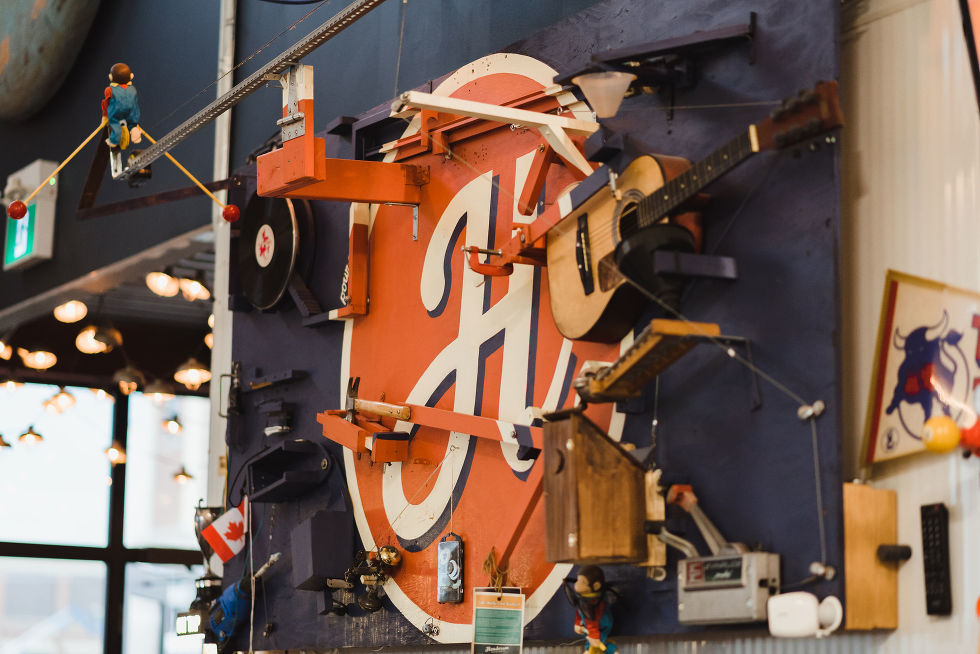 Keep The Good Times Rolling!
Why stop at one cocktail? If well crafted cocktails and craft beer is your jam, Sara and James did it right! Your wedding, your way right?! Why not end your wedding day at a hip spot like The Gladstone Hotel. This Queen West, art deco inspired, hotel has a very distinctive charm to it. They serve great drinks, in an even cooler venue space. It holds a certain place in a lot of people hearts here in Toronto. The architecture, the unique corner of the block location, all come together to make it a magical place to celebrate any occasion.




Your Wedding, Your Way
So my advice for any couples getting married… Stop and look around at your special places, your special interests, specials loves, and find a way to bring it together into a day that suites you two best. This is how to best plan your wonderful wedding your way. Your day should be a complete snapshot of the love that keeps you two going. So include those things that make your love unique. The love that brings you together with family and friends. And the love that promises to grow more unique to you each and every day. Also, if you're looking for more inspiration on how to best plan your wonderful wedding your way, check out this blog post as well. Contact me if this has gotten  some fun idea's flowing, I'd love to hear them!
Ceremony: Trinity Bellwoods Park
Officiant: The Marrying Lady
Reception: Gladstone Hotel
Florist: Poppies Plant of Joy
Planner: Blissful Memories & Events
Make-up: Mercedes Lee Beauty
Dessert: Nova Era Bakery
Beer stop: Henderson Brewing Co
Rings: Fair Trade Jewellery Co.
Dress: CLUB MONACO
Suit: Brooks Brothers